March 02, 2023. It's a clear, yet brisk night in Los Angeles. I walk cautiously through the side brick walkway alongside an unpretentious house as pedal planes from the nearby Santa Monica Airport fly over–unsure if I'm in the right place. I pass a caterer who welcomes me as I spot the heaters, banquet-style table and a sprawling tree adorned with twinkle lights. A warm glow radiates from the patio as I hear the sound of chatter reverberate over cold air. Relieved to have confirmed both the location and my decision to dress for an outdoor affair–I'm wearing corduroys and a leather trench coat–I scan the scene in search of a familiar face.
I clock Adam D'Augelli of True Ventures, who I've gotten to know online over the past year but have never met IRL. Connecting the dots between my online avatar and my in-person presence (a routine that will play out multiple times tonight), he smiles and waves me over. We express our mutual excitement for getting to hang, and he introduces me to Chad Hillard of Dreams Never Die, who is holding court nearby. Tonight's dinner–hosted by Dreams Never Die, True Ventures, and NOISE at the Dreams Never Die headquarters–is intended for musicians, builders, and founders to come together and break bread (Jon and Vinny's garlic bread, to be specific).
I feel the communal energy immediately. Out of the corner of my eye I spot artist and producer Aly (fka Lackhoney) sitting by the firepit, rocking an orange flower power cardigan. He hops up to give me a hug. Aly and I have been friends for years. We've worked together in various capacities–I was once on his management team; he produced my first EP. I also owe my introduction to web3 to him, where he is now making waves like selling 770 editions of his latest project SWEETS2, alongside involvement with LNRZ, Songcamp, and consistent collabs and Sound drops. This kind of reciprocity, friendship, and synergy marks the vibe of the night. As the patio fills, the depth of the relationships in the room is palpable. As is the openness towards forging new ones.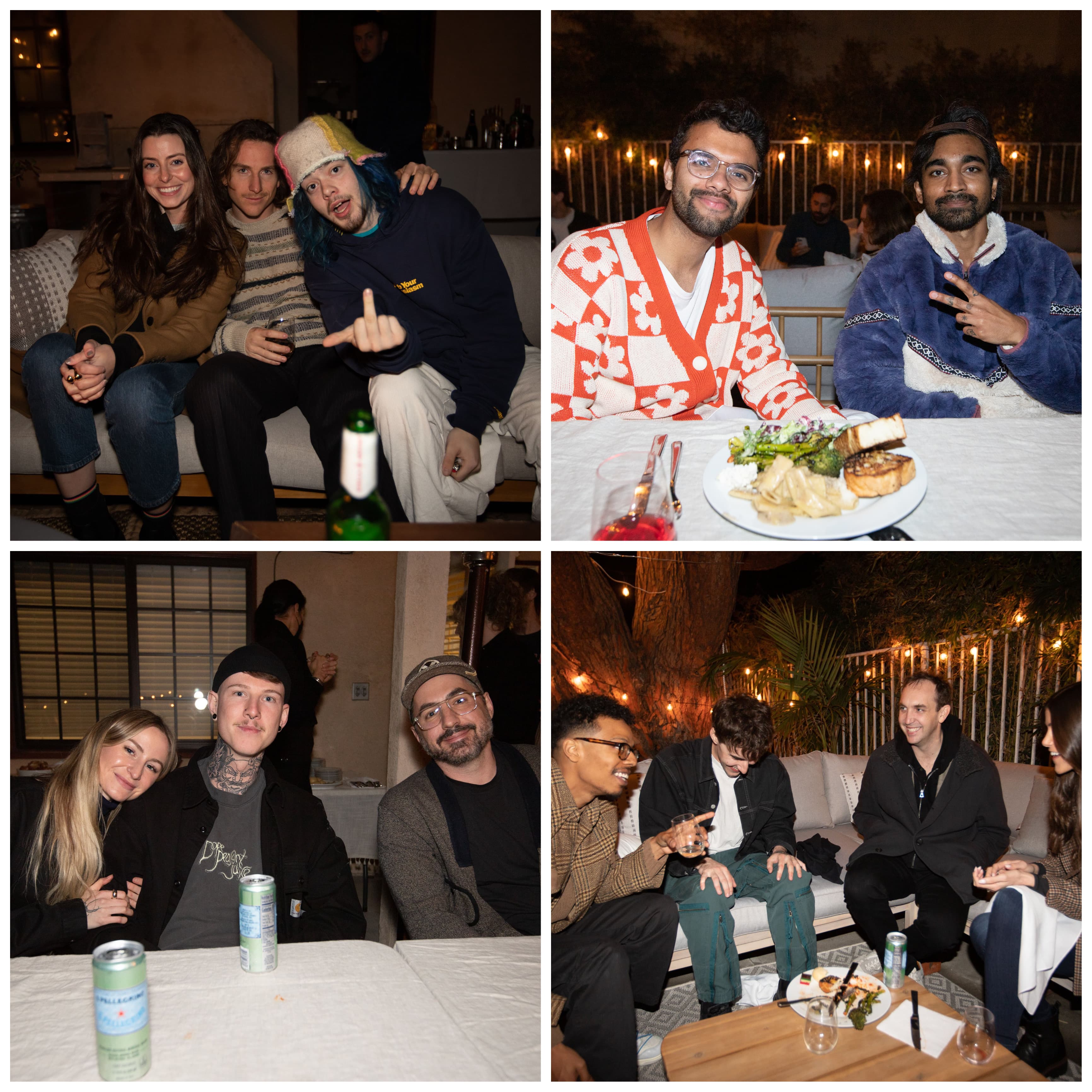 After snagging a spot by the firepit, I meet Ben Frigeri of Dreams Never Die. We chat about New York, where he's currently based and where I started my career, and trade horror stories about our time in the music industry laughing at the inevitable fact that we still refuse to give up on music.
I then meet SLOE JACK by the charcuterie board, his energy is unmistakably electric. He's buzzing around all night. SLOE JACK is in town from Australia. While visiting LA, he's staying at the Dreams Never Die house, where dueling clocks hang in the main workspace–one with block letters "LA" hanging above it; the other with "SLOE JACK," delineating the current time in Melbourne. Over cheese and pickles, we talk about art and its healing powers. And how he's excited about web3's potential to free artists from the TikTok rat race.
Serendipitously, I run into TWERL next, who is fresh off a plane from visiting family in Melbourne. He's with Pauline Herr, who just got back to LA from performing in front of thousands of people on one of the mainstages at EDC Mexico. She's still riding the high. Both Pauline and TWERL are founding members of ASTRO, a web3 electronic music collective that is gearing up to announce a partnership with indie electronic label Bitbird. I've just interviewed TWERL ahead of his drop with HIGH FREQUENCY, where he gives me a sneak preview of what will hit news feeds March 16 (the same day this article is to be published). ASTRO has signed a distribution deal with Bitbird for all web2 distribution of ASTRO projects moving forward. A marriage between web2 and web3 electronic powerhouses–Bitbird and ASTRO will work together towards breaking great electronic records in web2 while onboarding fans and artists to web3.
It's been about an hour of mingling when Chad Hillard and Cole Ryan of Dreams Never Die grab the group's attention to welcome us, share their gratitude for the community, and gather us inside to unveil the Story of Dreams Never Die–a short animated film detailing the evolution of Dreams Never Die and the hurdles they had to navigate throughout the music industry's online revolution. Starting as the blog Hillydilly, they are now formally announcing Dreams Never Die as a web3 artist company and music community, akin to an experimental record label, dedicated to finding and supporting great music and the artists behind it. The excitement bounces off the walls in response, as a hopeful energy fills the room. Foreshadowing the Dreams Never Die Founders Pass NFT drop selling out all 1,000 editions two weeks later on March 15.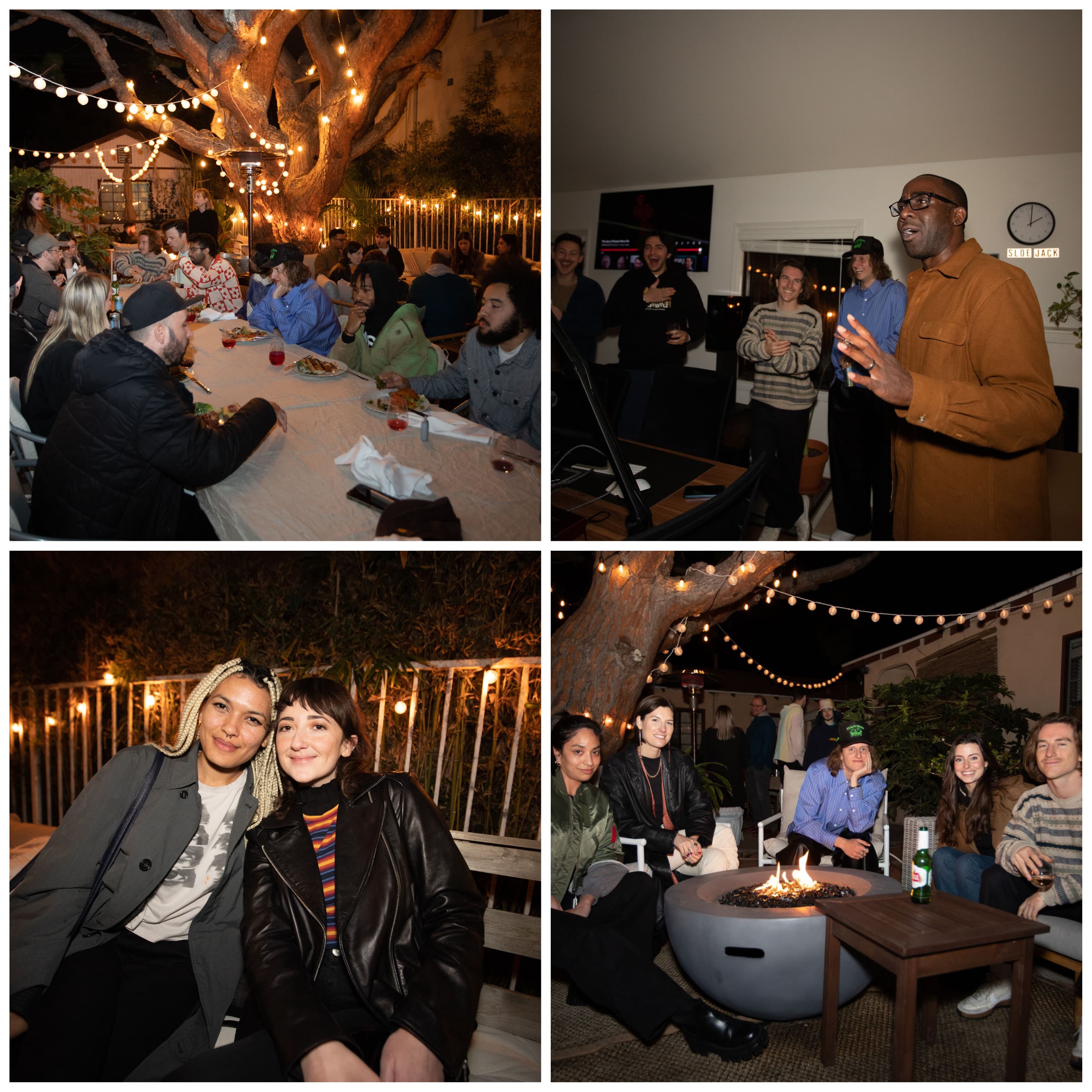 Over plates of pasta and Italian wedding cookies, I chat with Mike Perry and Rob Connelly from heds DAO–who have recently announced heds tape 12 featuring msft and camoufly. And back at the firepit after dinner I meet artists 347aiden, Lyrah, and Bel, and catch up with web3 music stalwarts Reo Cragun and Daniel Allan.
Reo Cragun, whose presence consistently seems to elicit joy in those around him, has been busy with LNRZ DAO. Tonight, he's here to hang out, but in the background there's a compelling narrative for the fruits of his labor after Season 1 saw 19 sold out drops. A few months into Season 2, LNRZ is ramping up with a new site, curated projects, and IRL experiences including the NFT Kickback event that will take place over ETH Denver.
Daniel Allan also has a big announcement brewing. Tonight, we talk about his preference for freestyling his DJ sets live. But later, via Telegram, we dive into the details of Daniel Allan Entertainment, his newly announced C-corp, and its successful $1 million seed round. The new home of his IP, streaming, touring, and web3 income—Daniel Allan Entertainment will serve as the holding company for the Daniel Allan project. "My main intention with Daniel Allan Entertainment is to continue to provide myself with the flexibility I need to scale my artist career while maintaining focus on the things that I'm best at—making beats and thinking about web3 rollouts," says Daniel. "The holding company creates exposure to my IP and allows us to raise outside capital while limiting liability in the underlying subsidiaries. Traditionally a record label invests into a specific body of work. With this vehicle people are taking a bet on me, both as a creative and as an entrepreneur."
Planning to use the funds to hire a full-time team and break records in new and creative ways, Daniel hopes to make a pathway for other artists to do the same. "My intention has always been to build a blueprint for other artists. I want this raise to show people that there are other ways to bring your vision to life without signing your life away," says Daniel. "These investors have been supporters of mine for years now. Whether it was buying my NFTs or linking me with other artists."
NOISE started investing in February 2022.  At the time, there were less than 1000 wallets holding a music NFT and less than 100 drops completed on Sound. A year later, we're starting to see a growing web3 music collector base, and more importantly, web3-first artists and projects starting to break out into the broader world.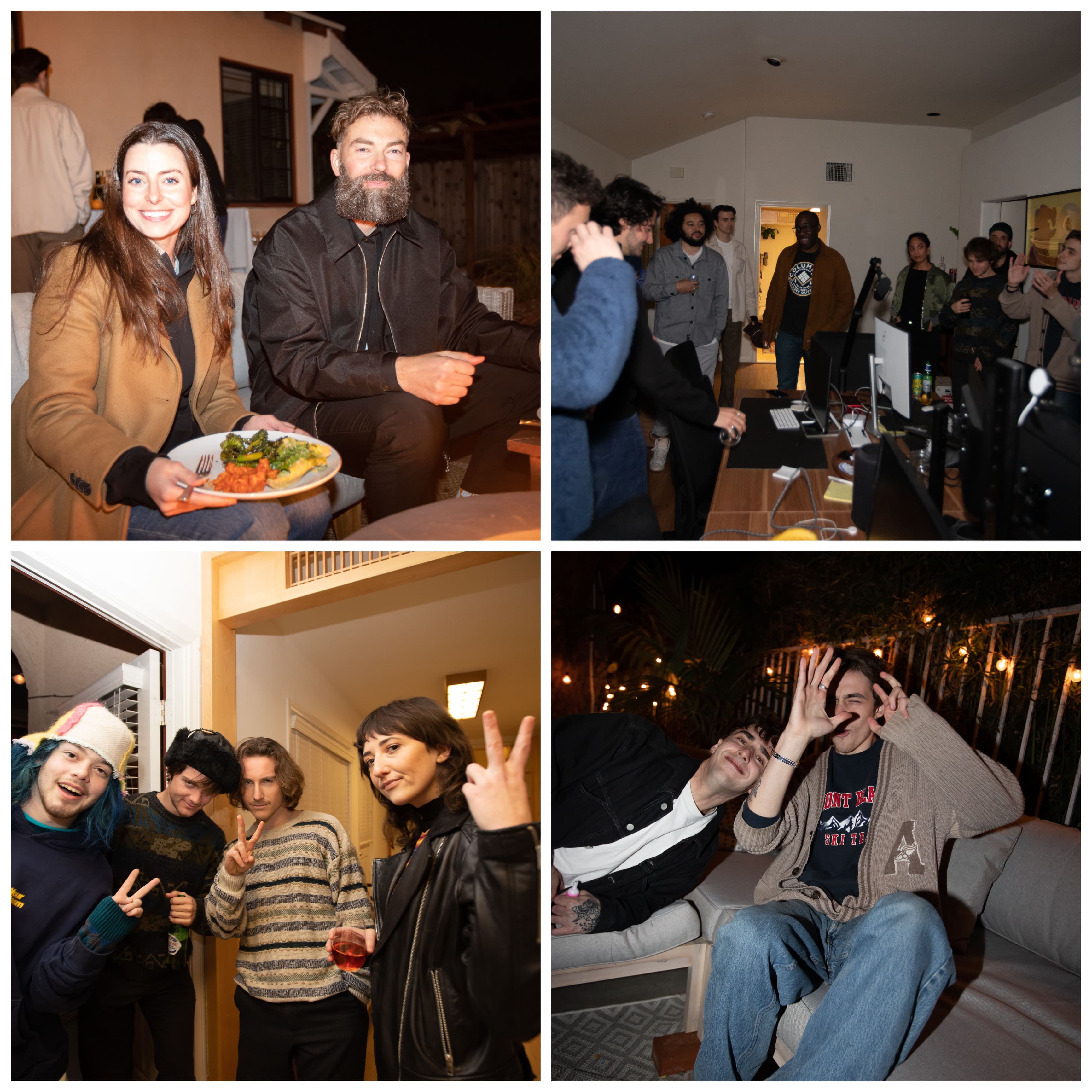 Nowhere is this better felt than at this small gathering on the westside of LA in March 2023 where multiple web3-first labels, a strong community of emerging artists, and investors excited to be early supporters and a part of the journey paint a compelling picture of a brighter future for music.
Diverse in approach, while connected by a love for music and a like-minded attitude towards creativity and innovation, there is a rich sense of belonging and community that radiates throughout the night. It's quite easily distinguishable from the transactional networking experience of many music industry functions. This is the underground for all intents and purposes–these are the rule breakers, music aficionados, and above all, the dreamers.
A group is inside blasting unreleased SLOE JACK tracks, jumping up and down next to the Dreams Never Die computer monitors. I hear someone by the firepit say, "I'm not sure how it is going to work, but we're going to have fun figuring it out."
****
Collect and add HIGH FREQUENCY writing NFTs to your digital library. There are 10 editions of this article available for 0.01 ETH on Mirror.
Article by Wallace Morgan for HIGH FREQUENCY, NOISE's weekly newsletter. Subscribe for more.