It's a perfect January day in Malibu, California. The salty taste of sea breeze floats through the air, the sound of waves crash below the coastline, and sunlight dances off the glass panes of a cliffside Airbnb. Daniel Allan and friends—Reo Cragun, DLG, Max and Benji (of slenderbodies), and Deegan—bask in the moment, swapping long hours on Twitter Spaces and Discord for guitar riffs, freestyle raps, and glasses of champagne. "I literally forgot about the internet," says 25-year-old artist/producer Daniel Allan. "I got lost in making music."
A creative sanctuary from the whirlwind that accompanies groundbreaking success–the crowdfunded, two-week Malibu writing camp in the "Glass House," and its subsequent four track EP Glass House might just be Daniel Allan's biggest triumph yet. Sonically diverse and bravely experimental, the Glass House EP unlocks a new layer of Daniel Allan—an empowered artist creating with patient intent and a reckless abandon for uncensored authenticity.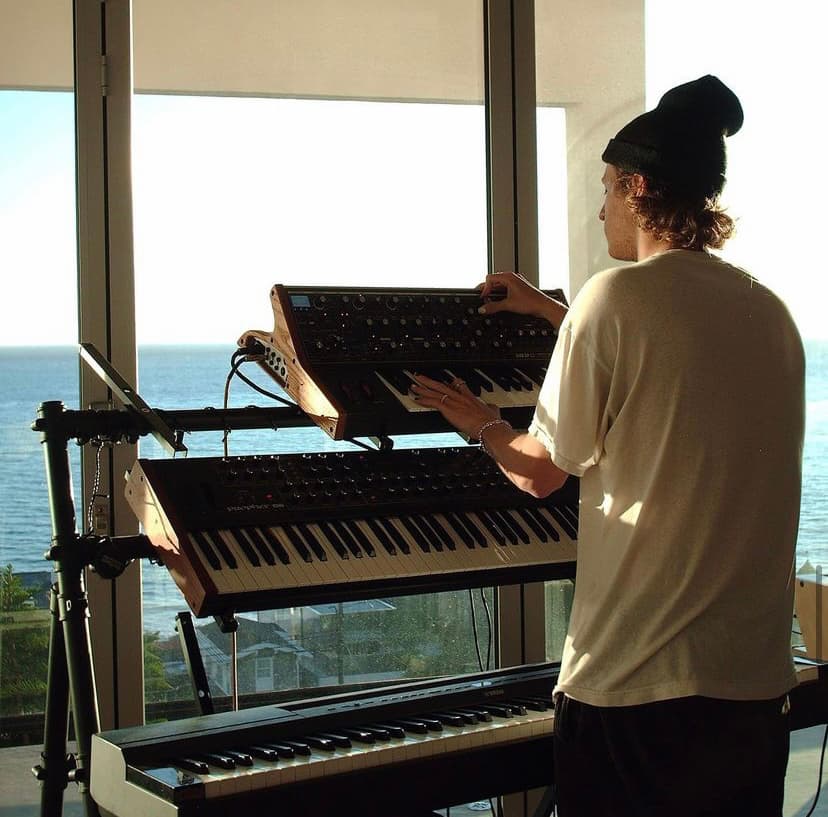 After becoming one of web3's most sought after players on the heels of raising 50 ETH for his Overstimulated EP, Daniel's world changed abruptly. "I didn't go from 0 to 100, but I at least went from 0 to 50 basically overnight," says Daniel. "My life got so noisey out of nowhere." While incredibly grateful for the response and the flood of outreach that ensued–hundreds of DMs a day and non-stop phone calls–Daniel, while on a flight to Denver to work on Big Gigantic's album, realized he needed an intentional plan to protect his own creative process. "I needed to get back to a place where music was the first priority," says Daniel. With his new level of responsibility to his collectors, backers, and fellow web3 musicians in mind, Daniel and his community manager Henry Chatfield launched the "Daniel & Friends" crowdfund in December of 2021 with a goal to raise 5 ETH.
"We raised 9.2 ETH and put on the craziest writing camp ever. I got a crazy house in Malibu. I flew out all my best friends. I bought all of them food and drinks and stuff everyday, and it was sick," Daniel recounts. For a kid raised by Ukrainian immigrant parents in Louisville, KY who started producing with the hopes of recording his friends who would rap in the middle school hallways—it was more than a dream come true.
The result of the camp was 64 demos, four of which made the cut for the Glass House EP.  "I wanted it to be a really interesting body of work that I was proud of, that also felt new and fresh," says Daniel. "I wanted to put together the songs that felt the most diverse and sonically interesting." Blending electronic, hip-hop, pop, and alternative elements, Glass House succeeds with flying colors.
The project's title track, "Glass House" featuring DLG, established the mood of the EP with distorted beats, woozy vocals, and confessional lyrics. Snippets of studio conversation audio are woven throughout DLG's vocals while the track is reminiscent of listening through a seashell with the hopes of finding a portal to another world. Thematically, the song is the crux of the EP. DLG's emotive lyrics, "I've been in a glass house in a void / living through a polaroid," capture the desire to live and create freely.
The EP's second track, and first single released on July 29, "Chasing Paradise" featuring slenderbodies, introduces a bouncier, more light-hearted feeling. The beachy, alternative R&B infused record is both organic and psychedelic in nature with booming bass and a powerful, EDM-inspired build.
"The song came to life because we were really burnt out from working on music actually," says Daniel. "We went to the beach. Max brought a guitar, and we just started doing covers. We would just rap and do stupid shit, and we had this shitty voice memo recording that you will hear in the beginning of the song." Daniel says he wasn't initially sold on the idea feeling like it was too much of a creative departure for him, but upon revisiting the track saw it as an evolution of his sound.
"Gorgeous" featuring Reo Cragun, available for pre-save now ahead of its September 02 release, marks yet another creative breakthrough. Striking the delicate balance between experimental and pop production, the ambient hip-hop and EDM-infused track meets a flawless, more pop focused vocal delivery by Reo that is both nostalgic and yearnful, while dancey and addictive. "It's produced by an electronic producer, but listenable like a pop song. And that's a really tough balance I find," says Daniel. "I just got lucky. It's something that I don't think I had ever got until that record. The weirdness in it is what makes it feel right." A longtime fan and now close friend of Reo's, admitting he knows every word to Reo's EP with Flume, Daniel says "Gorgeous" is admittedly his current favorite track on the project. (He also alludes to a full project with Reo that he is eager to announce soon).
Concluding the EP with no sign of inhibition, Daniel's closing track "Cool Water," is a hypnotic, more electronic leaning record featuring Deegan. The fuzzy, rippling track is a hopeful rumination of sorts, evoking the magic of floating in the ocean. Like looking out into the horizon, mesmerized by the never-ending body of water, it is the perfect end to the Glass House EP, and only the start of Daniel's expansive musical universe.
"This is the most honest music I've ever worked on because I, actually, not once thought about how it was going to stream or how it was going to perform. I was just asking myself if I was making sonically interesting decisions, and if it was something that people I look up to would do," says Daniel. "I don't think I've ever thought that way before. Overstimulated was me dipping my toes in web3, this project was me fully embracing that I can do whatever I want musically."
After selling out all 1,000 editions within 24 hours of the public sale on July 17–Glass House makes a persuasive case that web3 can reward artistic integrity and encourage creative experimentation. That is, after all, what led Daniel to web3 in the first place.
At age 16, Daniel says his biggest dream was to live in LA and pay his rent making beats. But once that dream became reality, he found that making music to pay the bills wasn't a fulfilling place to create from. Working as a mixer, producer, and engineer, while releasing singles on various label deals, he felt consistently creatively constrained and financially pressed. He eventually turned down three major label deals on account of lack of ownership and unsustainable financial models. But when he discovered NFTs, things changed. Encouraged by Cooper Turley, Daniel released his first NFT series, Drifter, in April of 2021 on Catalog, and for the first time saw his music being valued as art. "I'll never forget it. At 9am, I made the beat. At 1pm, I got the film developed. And at 5 pm, I sold my first music NFT for 1 ETH, which was like $3,000 at the time," says Daniel. "And that flipped my world upside down."
Having now been featured as one of web3's most successful trailblazers in Time Magazine and Billboard, and having generated approximately 320ETH across projects in a little over a year,  Daniel remains committed to his initial pursuit of creative autonomy.
"In my mind, the long-term benefit of web3 is better art," says Daniel. "If people can make more honest shit because of web3, there will be much better art."
And while thankful for platforms like Catalog and Sound that have released his NFTs in the past, Daniel felt ready to release the Glass House collection independently. "My thesis is that once you have a direct relationship with your collectors, you should have full autonomy to drop whatever you want, whenever you want," he explains on his website.
Collaboration remains key to Daniel's process, and he's careful to make that clear. As thoughtful and creative about his drops as he is with his music, Daniel used Bonfire and Rampp to build out the smart contract, and teamed up with visual artist Sophee Loftus, project manager Cooper Turley, community manager Henry Chatfield, and advisor Brett Shear to bring his vision to life. (Read more about the official mint structure/NFT roll out here).
With the collection having sold out for 72 ETH, the Glass House EP will be released on DSPs September 30—and when it does, Daniel hopes listeners experience a taste of the bliss he found while creating it.
"I want the project to sonically feel like looking at the sun in Malibu. It sounds so silly, but every time I hear the songs off this project I always think back to that view," he says. "I think about it being late at night. I think about me popping champagne with my friends at 10 in the morning and just having the time of our lives. I want people to feel a little bit carefree–just like how it was when I was working on it."
In such a chaotic world, we all deserve to find our carefree Malibu moment. For Daniel Allan, Glass House is that vehicle. He hopes it just might be for listeners, too.
****
By Wallace Morgan and Kiddest Sinke for "High Frequency," NOISE's weekly newsletter. Subscribe for more.